Chiropractic Care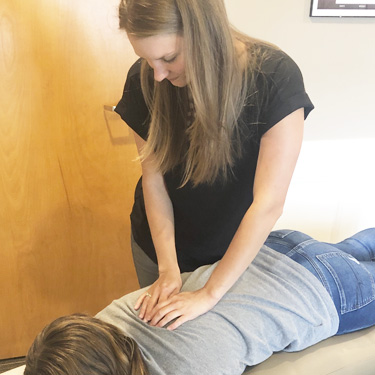 Chiropractic care is a safe, natural form of health care that looks at the human body through the eyes of the central nervous system. If any interferences, called subluxations, are present in this system, the body is unable to communicate and heal as organically intended. At Burke Street Chiropractic, we rely on gentle, specific chiropractic adjustments to not only address your discomfort but to find the underlying cause of your symptoms and provide lasting results.
Why Chiropractic Care?
Daily wear and tear on the body often causes shifts and misalignments in the spine, leading to nerve irritation and the onset of unwanted aches and pains. Rather than focus solely on your discomfort, Dr. Melissa strives to uncover the root of your condition. By reading your symptoms, following the warning signs to their source, and performing a specific chiropractic adjustment, she is able to restore your body to health. When restoration takes place, you can live your life to the fullest, once again.
Common Ailments
Whether you are suffering from frequent low back pain or constant headaches, we are dedicated to providing you with the quality chiropractic care that your body deserves. In addition to addressing back pain and headaches, chiropractic adjustments have been known to resolve the following symptoms:
Neck pain
Migraines
Sciatica
Numbness or tingling in the arms and legs
Poor sleep
Digestive issues
If you or a loved one are suffering from any of the above complications, please do not hesitate to contact our practice to learn more about the benefits of chiropractic care. We are glad to answer any questions you might have for us!
Our Techniques
Burke Street Chiropractic believes in adjusting with your unique needs in mind. As no two patients require the same type of care, Dr. Melissa specializes in a variety of chiropractic techniques that allow her to customize each adjustment to meet your current goals. While she most commonly utilizes Diversified Technique, a hands-on, manual method of adjusting, to care for adult patients, she also regularly performs Thompson Technique and Activator Method®.
Get Started Today
Are you ready to embark on your chiropractic journey? We look forward to meeting you and helping you get started on the path to wellness. Rest assured, you are in good hands with our practice on your side. Contact us to book an appointment!
CONTACT US »
---
Chiropractic Care Winston-Salem | (336) 281-2161